ReaderCon Filipino Friday Week 4: Books and Friends
It's week 4 for Filipino Fridays, and ReaderCon is just a week away! This week we're talking about Book Clubs and Bookish Friends.
Are you a part of a book club? If yes, what made you join one? What's your favorite activity that you have with them? If you're not a part of one, will you consider joining one? Why or why not?
Or if you're not (yet) a part of a book club, do you have friends who share the same passion for books as you do? Do you have a "bookish" best friend? If yes, tell us about them! How did you become friends? What's your favorite memory with them?"
Sometime in 2010, I joined Goodreads so that I could keep track of my book collection. I don't really remember how I found The Filipino Group – I think maybe at first I just searched for groups that would interest me and joined without really reading the threads. Later on I met some Filipino Book Bloggers who were also part of TFG, and I started lurking in the group. I'm not really good with online interactions (and it's so hard to keep up with all the threads), so until now, I don't really get to join in the discussions.
Meeting up with bookish friends is always something I enjoy because I don't get to talk about books with anyone at home.  Lately, I've tried attending the monthly Face-to-Face discussions of TFG. To be honest, I resisted this for a while because I'm not particularly fond of "required reading". But when I finally joined one, I really enjoyed it, even though I felt like I didn't really add much to the discussion. I'm hoping to attend more of the discussions in the future, and maybe even join one of the after meet-up activities.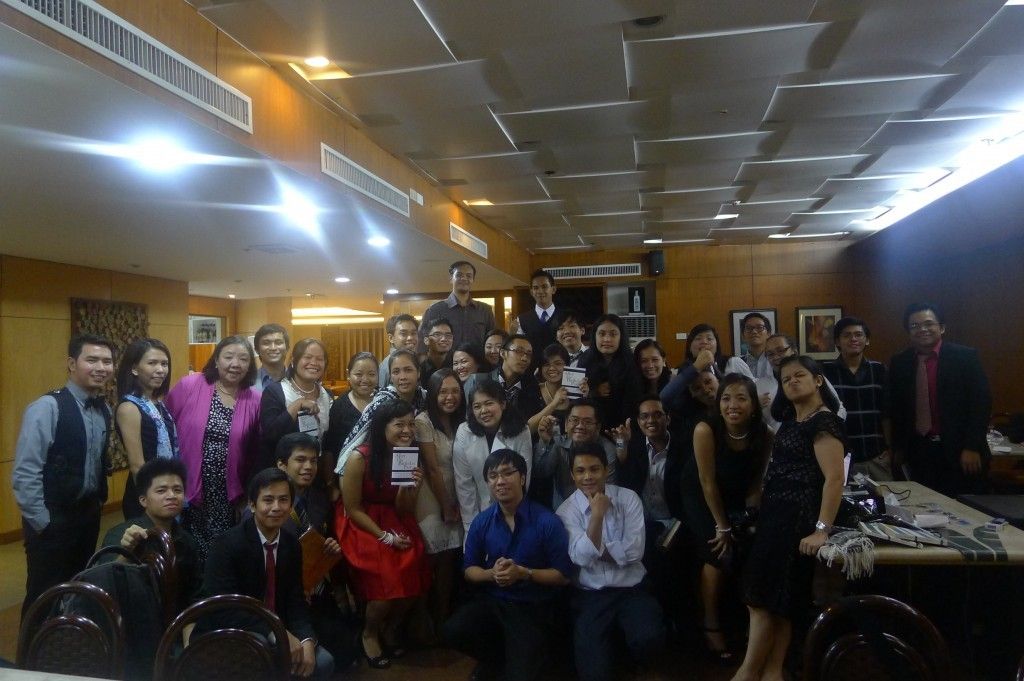 (Photo by Tina)
The bookish friends outside of TFG I interact with often are Chachic (though actually she is part of TFG too), Chris, Chiles and Judie. I met Chachic because she bought a few Diana Wynne Jones books from me a few years ago. I remember mentioning that I loved Howl's Moving Castle, and after that we started exchanging messages. I met her personally during Neil Gaiman's book signing, and we've been friends since then.
(My friend Maricar, myself and Chachic before the book signing)
Chris and Chiles were classmates in high school and we try to meet when Chris is in Manila. Our book tastes are very different, but I love meeting up with them and listening to their incredibly smart thoughts on books they've read.  
As for Judie, I got to know her first as a fellow football fan, before finding out that she was also a booklover. She's a member of Ex Libris Philippines, and she shares what it's like in the club over here. It's great hanging out with her because we get to do two things we love – talking about football and discussing books.:)
For those of you who would like to join a book club, there will be some book discussions during ReaderCon that will be hosted by different book clubs. I hope you can drop by then to see them in action!:)
ReaderCon Filipino Friday Week 3: Reading Habits and Book Formats
"Where and how do you read? Can you read anywhere and everywhere, or do you need a certain place/mood/state of mind to get reading? Do you read more in the morning or at night or any minute that you can? Where and how do you usually read? Are you exclusively for print, or do you go for ebooks more than print? Have you ever tried audiobooks?"
I have always been a night person. Needless to say, my favorite time to read is at night or in the early hours of the morning when everyone at home is asleep. Sometimes when I go out, I read while waiting for the shuttle to get full, but I can never read in a moving vehicle because I get dizzy.
Before getting a Kindle, I didn't think I'd like reading eBooks, but I've gotten pretty used to it. I still prefer reading print books though – I don't know, it just always feels like a different reading experience when I'm holding an actual book in my hands. Also, I love flipping through the pages of a book, especially when I forget some details in the earlier part of the story.
I've only tried listening to an audiobook once, and I've found that it's not for me. I suppose it's because I get easily distracted and find it hard to concentrate on listening. But I do plan to try audiobooks again in the future. Any suggestions?
ReaderCon is in 2 weeks! For those of you who are going, you may already pre-register at the ReaderCon site.
Aussie Book Haul from Fishpond
I've enjoyed reading some Aussie YA in the past year or so and just couldn't get enough of them. Unfortunately, most Aussie books aren't available here or in Book Depository – even the eBooks aren't available for purchase from here. The only way to get them was by either asking a friend from Australia to buy for me (but I didn't know if she'd be coming home anytime soon) or to order through Fishpond (they offer free shipping worldwide). I was really hesitant to try Fishpond because I haven't heard any feedback from customers from the Philippines, but eventually the need for the books won over and I decided to just go for it.
I ordered three books sometime late April. The processing alone took around a week or so, and the books were shipped out separately in the first week of May. Their website said to expect the books within 6-10 working days from the date of shipment. But based on my experience, I've never received shipments on time and decided to wait at least 6 weeks for the books. Unfortunately, by mid-June I had not received anything yet and decided to contact customer service. They replied quickly and refunded my order immediately.
I pretty much gave up on getting the books, but I was satisfied that I was at least refunded in full. But last week, I got a notification from the Post Office that I had 3 packages to be claimed. I was worried I would be taxed for the packages, but fortunately I was only charged P60 for each (I don't know if this is the storage fee, which used to be just P40).
(Fury by Shirley Marr, Preloved by Shirley Marr, Night Beach by Kirsty Eagar)
So I was really happy that my order arrived and I can't wait to read these books. If you're planning to buy an Aussie book, I would recommend Fishpond, as long as you're willing to wait 2 months for your shipment to arrive. Anyway, if you've tried Fishpond, I hope you can share your experience. Or if you have any questions, please feel free to ask.:)
ReaderCon Filipino Friday Week 2: School of Reading
I'm late again to Filipino Friday! So let's just get right to it with our topic for the week:
"We all started reading somewhere, and more often than not, we were influenced by someone. Who got you into reading? Your parents? A friend? A librarian? One teacher who always lends out his/her books? How helpful was your school in helping your reading habit / fueling your book addiction?"
One thing I remember most about my childhood is that there was always something to read at home. My mom encouraged my brothers and I to read, although I think I was the only one of us who really got into reading. I think maybe my mom got disappointed that our books were not being used so much that she actually came up with a sort of library in our garage so that other kids in our village could borrow them.
My love for reading was also helped by having classmates who liked to read. I don't remember who got me started on the Sweet Valley series, but I definitely got into it because my classmates were talking about it. Then I think it was my friend Camille who lent me a copy of P.S. I Love You by Barbara Conklin, and that got me hooked for a while on Sweet Dreams.
I guess I can consider myself lucky that there were people who influenced me early on to enjoy reading. And I'm very thankful now for the people who continue to do so - whether it is through their blogs or just brief conversations online or in person. I'm doing my best to pay it forward by trying to get my son interested in books. So far though, I've only been successful in getting him to want to buy books, but not to read them - I wonder where he got that from?!:)
So anyway, have you seen the official poster for this year's ReaderCon? Thank you to Chris of Ficsation for this!
ReaderCon Filipino Friday Week 1: Introductions
Filipino Friday is a meme for Filipino readers and bloggers to interact with each other in the weeks leading to ReaderCon.
These past few months, I've been so preoccupied with other stuff that I've had to put my book-related activities on hold for quite a while. I'm still way behind my 2012 reading challenge, I haven't posted anything here in months, and I've missed checking out and commenting on blogs. But ReaderCon is just around the corner, so I'll do my best to participate in the activities leading up to the event.
Before starting on this post, I checked out my entry from last year's Filipino Friday Introductions and I'd have to say that my reading preferences have remained pretty much the same. The YA genre still holds my interest the most, with a few urban fantasy and contemporary romance/chick lit mixed in.
This year, very few books have landed on my favorites list – I don't know if it's because my expectations are just higher now or what. So far, the book that has really stood out for me was Feed by Mira Grant. I'm not really a fan of anything with zombies in it, so I was pleasantly surprised by how much I loved it. Other books that I also really enjoyed were Scarlet by A.C. Gaughen and Seraphina by Rachel Hartman.
Last year I missed some of the panel discussions because I was helping out with the registration. But I met some really great people and also learned a lot from the discussions I was able to attend. I am looking forward to seeing more new faces this year, and I hope that I will wake up early enough to participate in all the activities planned for the day.:)
Anyway, for those of you who are interested in attending ReaderCon, here are some of the details:
When: August 18, 2012 (Saturday), 8:00am-6:00pm
Where: Filipinas Heritage Library, Makati City
Registration Fee: P150, inclusive of snacks and certificate
For more details and announcements, check out the ReaderCon blog, follow on Twitter, or like on Facebook.